SUPER MILLION HAIR [10g]
This gives you a natural finishing touch and is suitable for both men and women. This convenient, portable size is very popular even among first-time users.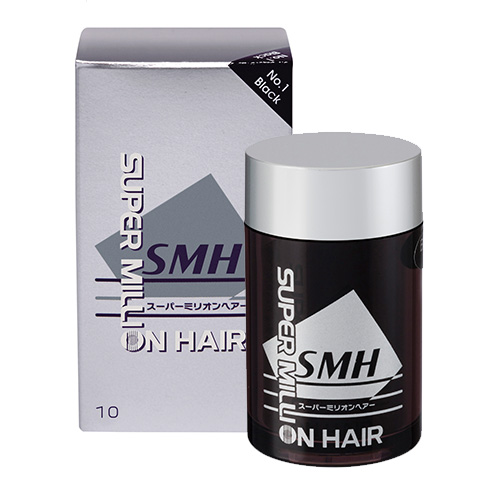 Color
NO.1

Black

NO.23

Medium Brown

NO.4

Dark Blond

NO.5

Ash Blond

NO.67

Natural Blond

NO.8

Auburn

NO.13

Light Gray
NO.2

Dark Brown

NO.3

Light Brown

NO.45

Medium Blond

NO.6

Light Blond

NO.7

Wheat Blond

NO.11

Gray

NO.15

White
SUPER MILLION HAIR

is a new type of restorer.

SUPER MILLION HAIR does not assist hair growth in any way. Its sole purpose is to give your natural hair the appearance of hair growth. It is a new type of hair restorer.

SUPER MILLION HAIR is a specially-processed antibacterial vegetable fiber. It bonds to your natural hair with static electricity so securely that your hair looks as if new hair has grown. Spraying SUPER MILLION HAIR MIST over SUPER MILLION HAIR and your natural hair gives your hair a fuller, natural look that stays in place for hours, even in rain, wind, and sweat. SUPER MILLION HAIR is effective and inexpensive. Use it together with SUPER MILLION HAIR MIST to give your hair a natural look.

Natural finish.

Just 1 dollar per application.

Totally safe. Made of fiber.
Features
SUPER MILLION HAIR is artificial hair made from vegetable fibers and cut into 0.3 to 0.5 mm pieces. Different sized and shaped fibers are mixed together to add volume and cover your hair naturally (e.g. long/short, thin/thick, and straight/bent). For people with thin hair, SUPER MILLION HAIR adheres to the scalp to add thickness to the thinning area.
Because SUPER MILLION HAIR is applied directly on the skin, special care has been taken to assure the safety of our product. SUPER MILLION HAIR has been approved by the International Organization for Standardization (ISO). It has also been tested for skin allergies and declared safe by university medical experts.As previously stated, SUPER MILLION HAIR is made out of vegetable fibers (rayon) extracted from pulp. It is 100% biodegradable in order to protect our natural environment.
There are people in over
70

countries who love

SUPER MILLION HAIR

.

Over twenty years have past since the initial manufacturing and marketing of

SUPER MILLION HAIR

in

1986

. Since then, we have succeeded in exporting

SUPER MILLION HAIR

to more than 70 countries around the world. We wish to express our appreciation to each and every customer at home and overseas. We believe that our success is built on your trust in us and our product. We promise to keep customer satisfaction at the forefront our vision. Thank you.
How to use
STEP1
Dry your hair first.
Set your hairstyle with a brush.
Wash off or towel dry any excess scalp oil before applying

Super Million Hair

to give your hairstyle a more natural look.
Dry your scalp first before using any hair growth tonic.
Eliminating the use of cosmetic oils will give a better finish.
STEP2
Pat the bottle on the balding area to apply.
Position the bottle upside down on the balding area you want to conceal. Then, pat the bottle lightly.
Using a hand mirror, make sure that

Super Million Hair

is applied generously until the scalp is no longer visible.
Spraying too high above your head, will reduce the effectiveness of the product. Apply

Super Million Hair

patting your skin.
Applying

Super Million Hair

just a few inches from the skin is convenient if you have oily skin or want to keep your current hairstyle.
STEP3
Gently pat your hair and touch up.
Gently pat the area of application with your hand allowing
Super Million Hair
to mix in with your own hair.
Patting your own hair lightly makes

Super Million Hair

come out on the surface giving your hairstyle a more natural finish.
STEP4
Apply Super Million Hair Mist
Spray
Super Million Hair Mist
seven to eight times about
15
cm above the area.
Do not touch until the hair dries.
For quick dry, use a hairdryer.